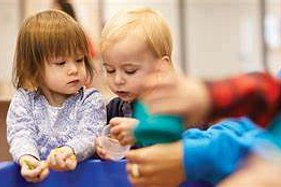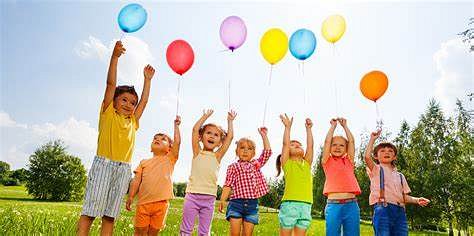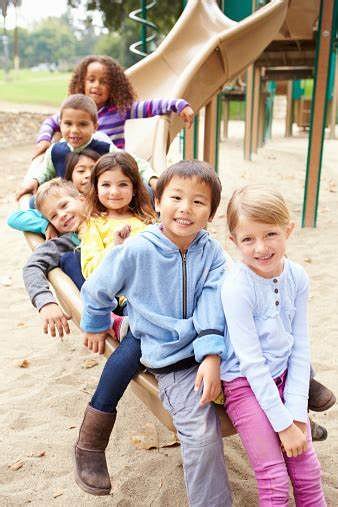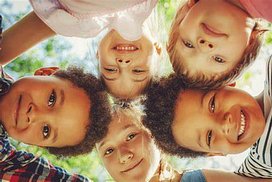 Blue Boxcar Room - 18months & Two year Olds
The toddler program focuses on our belief that children are wonderful, small people who have a limitless curiosity and a love for both new and old. They delight in fantasy and are intrigued by reality. Our program is geared to meet individual needs in a flexible, yet structured environment.
Our primary goal is the development of a positive self-image. We encourage independence through learning self-care skills (toileting, washing, dressing, etc.) as well as, verbalization, problem solving and social interaction.
Cognitive growth is stimulated by promoting awareness of colors, shapes, numbers and parts of the body. Stories, songs, music, dance, coloring, painting and outside play aid in the development of skills and increased attention span, ensures an enjoyable day!
Toddlers enjoy mastering gross motor skills with plenty of running, jumping and climbing included in their day. They are also ready to sit at a low table to develop their fine-motor skills more fully. Social development is emerging and friendships begin to grow as a result of increasing active play.
Toileting is an important step in becoming independent; toddlers are nearing this important step. We encourage, but do not pressure, children who are ready. Signs of readiness are: asking to be changed, mentioning soiled diapers and staying dry overnight. Pressure before a child is ready can cause delays and/or prolong the training process. A child is truly toilet trained when the child independently uses the toilet, wipes, pulls up pants and washes hands. Our staff is available and eager to discuss parent concerns and questions about toilet training

___________________________________________________________
Yellow Caboose Room: 6 weeks to 18 months
Infant care is for children 6 weeks to 24 months. Our program is based on tender, loving, individual care for each baby. We emphasize communication through touch and speech with each infant many times during the day. Teachers at the center talk to each infant at every opportunity, sing songs and repeat names of simple objects. All of these help the physical and emotional development of infants.
Introductions to cup, spoon, and bowl are made at the appropriate time, social interaction is introduced and supervised outdoor play is enjoyed at favorable moments.

_______________________________________________________________________
RED BOXCAR ROOM - 3 YEAR OLDS
Our three year old classroom begins basic preschool activities and skills. While maintaining a consistent focus on potty training, our children are provided with weekly planned curriculums focusing on letters, numbers, colors, and more.
Fields trips, organized science experiments, games, and exploration are all incorporated into the curriculum.
Social skills are increased, practicing and maintaining manners, understanding feelings, and knowing how to communicate with friends and teachers.
This classroom makes sure to encourage a child's independence while helping lead a guided path of success. Each child is encouraged to make their own decisions and tap into their imaginative roots.

---------------------------------------------------------------------------------
Engineer Room - 4 & 5 year olds
The preschool age children have a wide variety of choices. They are able to plan, make choices, discover problems, explore solutions and recall experiences. The teachers in the preschool age classes create daily lesson plans that relate to a theme of the week. Children work on new songs, games, concepts, art and drama every day. Children practice writing letters of the alphabet and their names, as well as, many other skills to prepare them for kindergarten.